As a registered member of the web page, you have several advantages over the non-member.
Below you can see the differences in the members and non-members.
---
Opportunities:
Guest:
Member:
Access to the full page

Access to support and help with diffierent issues.

Profile with photo album and personal page, and more.

Downloading from our large download database.

Participate in our discussion forum.

Ability to write comments in news, articles and elsewhere.

Meeting others with a similiar interest.

Help us make the web page better by participating and discovering new ideas.

The ability to submit content, such as: links, news, downloads and more.


If you have problems signing up:
Please contact admin for help: HERE
07 Feb 2013
Editorial Staff
316 Reads

A poll about German gunslingers on the Eastern Front. Holocaust Extremists claim the Germans murdered over a million people by gunning them down in "Old West" fashion.

No remains, no excavations and no mass graves...therefore we created a poll to see what people believe!
10 Dec 2012
Editorial Staff
410 Reads

Excerpt:

"k0nsl.org has published the entire transcribed notes from the most recent trial of Günter Deckert."
08 Nov 2012
Editorial Staff
558 Reads

Excerpt:

"President Barack Obama and "Holocaust Survivor" Elie Wiesel are working on a book together. Obama first met Elie Wiesel as a considerably younger man -- in college."

Excerpt:

"Apart from the cans and cups she found a remarkable lump of metal weighing in at about two pounds. What this lump of metal has to do with the alleged extermination in Treblinka is still unclear, but she left it laying around someplace in the perimeter of the Treblinka camp -- unlike her cans and cups it didn't get any recognition inside the Treblinka museum."
03 Nov 2012
Editorial Staff
398 Reads

Excerpt:

"If any holocaust gassing claims were true, vast numbers of bright, cherry RED corpses would have always been present among the victims. Not necessarily all of the corpses would have been red--but certainly large numbers, probably the vast majority, would have been intensely red in appearance from cyanide or carbon monoxide and would have been remembered that way long after the war."
02 Nov 2012
Editorial Staff
421 Reads

Excerpt:

"We found ourselves asking; what part -- any part at all -- is 'important' about this document? Hier and his cohorts are making it sound as if the revelation of this document is something pioneering, that it hasn't ever been known before."
13 Jul 2012
Editorial Staff
458 Reads

Excerpt:

"I am absolutely certain that the Germans are prepared to see this to the very end, to the last survivor," said Eizenstat, who also served as ambassador to the European Union under President Clinton. "It's not contingent on economic circumstances in Germany," Eizenstat added. "If it were, we'd never have gotten this kind of agreement at a time of economic crisis in Europe and great strain in Germany."
13 Jul 2012
Editorial Staff
572 Reads

I found this post by Friedrich Paul Berg of nazigassings.com and thought it was worth re-publishing here at Holocaust History News.

Excerpt:

"The cheap, dirty trick which really makes the hoax succeed is the wilful misuse of pictures of countless sick and dead in the camps at the end of the war—none of which are of people killed in gas chambers—but which are repeatedly shown to give the false impression that millions of people must have been murdered in gas chambers."
12 Jun 2012
Editorial Staff
502 Reads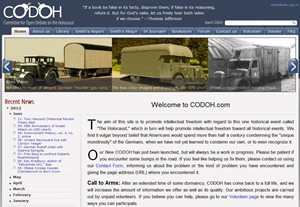 The second step was to completely revamp CODOH.com and turn it into a modern website with sophisticated document management software at its base. For this, the messed-up code of all 1200+ documents on the old site had to be manually recoded, and the out-of-the-box database software had to be customized to fit CODOH's needs. It was a work that was done entirely by unpaid volunteers spending endless hours over the past 20 months.
07 Jun 2012
Editorial Staff
505 Reads

A two-hour radio debate on the Deanna Spingola Radio Show is scheduled for June 22, 2012 between myself and Roberto Muehlenkamp beginning at 9 AM, Chicago time. Mr. Muehlenkamp is well known to many on the internet as the most passionate defender of the holocaust hoax. For all his shortcomings, at least Muehlenkamp has been standing up to debate the subject matter over many years.
International Bureau of Double Standards — The CNN/Iran File


This video looks at a CNN documentary (April, 2012 with repeats) about the Iran nuclear issue, and examines the role of the mainstream media in keeping the public uninformed about the real problem-nation in the Middle East: Nuclear-armed, Apartheid Israel. Comments with abusive or insulting language will not be approved, including accusations of Hate Speech and/or anti-Semitism.




Total Views: 139

A Tribute to Carolyn Yeager
This is a short tribute to a brave woman by the name of Carolyn Yeager.

Please visit her web pages for more information:

http://carolynyeager.net/
http://www.eliewieseltattoo.com/

And visit Holocaust History News for more information:
http://holocaust-news.com/cms


Total Views: 127

Let's Purge The Holocaust Belief HD (k0nsl)
FOURTH DRAFT; several changes have been made. We also made it in better quality than the previous versions. Enjoy, and please share it elsewhere!

SCRIPT:
The Holocaust belief -- or the Holycost as I like to call it -- is a doomed belief. Why do people believe in something that can not pass the most congenital scientific scrutiny?
We have examined the Holycost for years and we came to the conclusion that most of the content is a mere mix of slanderous hate and insidious lies.
It is high time to scratch this belief and concentrate our energy on something positive. There is a whole host of other beliefs that offer a more positive picture rather than superstitious, hysterical lies. The Arithmetic of Positive Belief is perhaps something many people could benefit from.
Do not deprecate The Power of Positive Thinking!
We need to detoxify our mind from this Holocaust virus and expel it from our most inner deepness. At Holocaust History News we do our best to unmask the stories contained in the Holocaust story - it's easy because this story can not withstand any form of public scrutiny, and it is even against the law in many countries to even have doubt about it.
You can also visit our online page and participate. Have a nice day!


Total Views: 311

Why?
Why believe in something that has no basis in fact or in history? I don't understand the point of it -- so I ask some questions, but I never get a reply: only physical threats and tantrums.



Total Views: 187

How Whites Took Over America
Hilarious cartoon flipping the roles of the standard liberal guilt-trip.
Apparently the German branch of Google/Youtube got so terrified, that this little piece of satire would break the flow of integration-propaganda, they actually BANNED it from being viewed from German IPs altogether.

- Heartless, but not surprising for a country that is known to have had 94,215 criminal prosecutions for thought-crimes from 1994-2002.

The description was supplied by Kitman TV. Thanks!


Total Views: 212
Not a member yet?
Click here
to register.
Forgotten your password?
Request a new one
here
.
Online since 440 days
830 unique visitors / day

Reinhold Elstner
1919-1995